Acne Vulgaris Pipeline Insights, 2020 By DelveInsight

(Albany, US) DelveInsight has launched a new report on Acne Vulgaris Pipeline
Acne Vulgaris Pipeline Insight, 2020 report by DelveInsight outlays comprehensive insights of present clinical development scenario and growth prospects across the Acne Vulgaris market. A detailed picture of the Acne Vulgaris pipeline landscape is provided, which includes the disease overview and Acne Vulgaris treatment guidelines. The assessment part of the report embraces in-depth Acne Vulgaris commercial assessment and clinical assessment of the Acne Vulgaris pipeline products from the pre-clinical developmental phase to the marketed phase. In the report, a detailed description of the drug is proffered including mechanism of action of the drug, clinical studies, NDA approvals (if any), and product development activities comprising the technology, Acne Vulgaris collaborations, licensing, mergers and acquisition, funding, designations, and other product-related details..
Acne vulgaris is a common chronic skin disease involving blockage and/or inflammation of pilosebaceous units (hair follicles and their accompanying sebaceous gland). Acne can present as noninflammatory lesions, inflammatory lesions, or a mixture of both, affecting mostly the face but also the back and chest. AV appears during early puberty when androgenic stimulation triggers excessive production of sebum and abnormal follicular keratinization, colonization by a Gram-positive bacterium (Propionibacterium acnes) and local inflammation.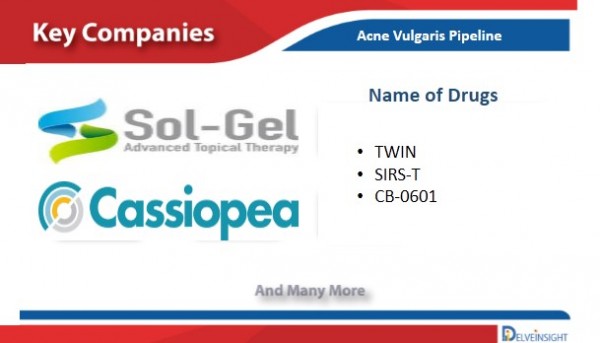 Request for free sample page: – https://www.delveinsight.com/sample-request/acne-vulgaris-pipeline-insight
Acne Vulgaris Pipeline Development Activities
The report provides insights into:
All of the companies that are developing therapies for the treatment of Acne Vulgaris with aggregate therapies developed by each company for the same.
Different therapeutic candidates segmented into early-stage, mid-stage and late stage of development for the Acne Vulgaris treatment.
Acne Vulgaris key players involved in targeted therapeutics development with respective active and inactive (dormant or discontinued) projects.
Drugs under development based on the stage of development, route of administration, target receptor, monotherapy or combination therapy, a different mechanism of action, and molecular type.
Detailed analysis of collaborations (company-company collaborations and company-academia collaborations), licensing agreement and financing details for future advancement of Acne Vulgaris market.
The report is built using data and information traced from the researcher's proprietary databases, company/university websites, clinical trial registries, conferences, SEC filings, investor presentations, and featured press releases from company/university web sites and industry-specific third-party sources, etc.
Acne Vulgaris Pipeline
In the coming years, the competitive landscape for the Acne Vulgaris market is set to change due to the rising awareness of the disease, and incremental healthcare spending across the world; which would expand the size of the market to enable the drug manufacturers to penetrate more into the market.
Major players such as Sol-Gel Technologies, Cassiopea SpA and many others are involved in developing therapies for Acne Vulgaris. Launch of emerging therapies, such as TWIN, SIRS-T (Sol-Gel Technologies) and CB-06-01, WINLEVI (Cassiopea SpA) will significantly impact the Acne Vulgaris market during the study period (2017–2028).
TWIN is being developed by Sol-Gel Technologies for the treatment of Acne Vulgaris. TWIN is a novel non-antibiotic cream for the treatment of acne vulgaris (acne) that was designed to be tolerable and highly effective. It is the first acne treatment that contains a fixed-dose combination of encapsulated tretinoin and encapsulated benzoyl peroxide. While major challenges were the instability of tretinoin in the presence of benzoyl peroxide and irritation, encapsulation allows stabilization and is also expected to contribute to patient compliance. TWIN is currently in phase III stage of development.
SIRS-T is being developed by Sol-Gel Technologies for the treatment of Acne Vulgaris. It is a topical encapsulated tretinoin cream that is being developed for dermatologists and patients that have a preference for using an efficacious and more tolerable tretinoin. SIRS-T's efficacy and safety have been evaluated in TWIN phase II trial. Sol-Gel Technologies is planning to commence a pivotal Phase III program for SIRS-T in the United States in 2020 and expect to report top-line data from this program in 2021.
Winlevi is a topically delivered small molecule that penetrates the skin to reach the androgen receptors of the sebaceous gland. It aims to be the first effective and safe topical anti-androgen that does not have systemic effects. Unlike other hormonal therapies for acne, Winlevi can be used by both male and female patients. Winlevi has completed Phase III clinical trials and the NDA is scheduled to be filed in H1 2019.
CB-06-01 is being developed by Cassiopea SpA and it is a topical antibiotic under development for the treatment of moderate to severe acne. According to in vitro MIC (Minimum Inhibitory Concentration) tests, it is highly effective on bacterial strains of P. acnes, the most important microbe implicated in acne, including strains resistant to some other antibiotics. Currently, CB-06-01 is in Phase II stage of development for the treatment of Acne Vulgaris.
Emerging drugs included in the report
TWIN: Sol-Gel Technologies
SIRS-T: Sol-Gel Technologies
CB-06-01: Cassiopea SpA
Report Scope
The

Acne Vulgaris

report provides an overview of

therapeutic pipeline activity and therapeutic assessment of the products

by development stage, product type, route of administration, molecule type, and MOA type

for

Acne Vulgaris

across the complete product development cycle, including all clinical and nonclinical stages.

It comprises of

detailed profiles of

Acne Vulgaris

therapeutic products

with key coverage of developmental activities, including technology, collaborations, licensing, mergers and acquisition, funding, designations and other product-related details

Detailed

Acne Vulgaris

research and development progress and trial details

, results wherever available, are also included in the pipeline study.

Coverage of dormant and discontinued pipeline project

s along with the reasons if available across

Acne Vulgaris
Request for free sample page: – https://www.delveinsight.com/sample-request/acne-vulgaris-pipeline-insight
Table of content
1. Report Introduction
2. Acne Vulgaris
3. Acne Vulgaris Current Treatment Patterns
4. Acne Vulgaris – DelveInsight's Analytical Perspective
5. Therapeutic Assessment
6. Acne Vulgaris Late Stage Products (Phase-III)
7. Acne Vulgaris mid Stage Products (Phase-II)
8. Early Stage Products (Phase-I)
9. Pre-clinical Products and Discovery Stage Products
10. Inactive Products
11. Dormant Products
12. Acne Vulgaris Discontinued Products
13. Acne Vulgaris Product Profiles
14. Acne Vulgaris Key Companies
15. Acne Vulgaris Key Products
16. Dormant and Discontinued Products
17. Acne Vulgaris Unmet Needs
18. Acne Vulgaris Future Perspectives
19. Acne Vulgaris Analyst Review
20. Appendix
21. Report Methodology
22. About DelveInsight
Related Reports
Media Contact
Company Name: DelveInsight Business Research LLP
Contact Person: Yash Bhardwaj
Email: Send Email
Phone: +919650213330
Address:304 S. Jones Blvd #2432
City: Las Vegas
State: NV
Country: United States
Website: https://www.delveinsight.com/