BLAZAR Crypto Token To Replace Traditional Governmental Pension Plans?
There is a buzz in the crypto universe that BLAZAR which is touted as the "crypto pension" has the potential to replace traditional government pension plans.
Over the past two years, a group of developers has worked to build a cryptocurrency token on the Binance Smart Chain Network, designed to enable investors to save and supplement for their retirement. This project began to take shape after various members of first responders began to realize that their current retirement fund was not only ascertaining abysmal returns on investment (ROI) but was so severely underfunded that they literally only had a few years left before the monthly pension payments for retirees stopped showing up.
This realization was then determined to not only be affecting the Law Enforcement sector, but firefighters, nurses, teachers, and just about every single position that was holding a traditional Government Pension. With this realization, the group decided to work night and day until they found a solution to their future. Fast forward 18 months to the present day and BLAZAR Token is born.
BLAZAR is the Native Token to the Moonfuel Protocol and is built on the Binance Smart Chain (BSC) Network. It's sole purpose is to enable investors to save and supplement for their retirement. Moonfuel Protocol is a decentralized high yield reward staking application (DAPP) that enables our token holders the ability to invest into the most secure and contractually guaranteed staking yield rates available. Utilizing a specific blockchain network search engine, our protocol scans every token that offers staking periods that coincide with the end date of the token you are currently locked into. This ensures that our investors are always earning a yield revenue from one staking decentralized finance (DeFi) project to another.
Additionally, to grow each of our token's value, we take the funds from our liquidity pool and invest it via staking into various high yield startup DeFi projects. At the conclusion of the staking period, we then take the initial principal balance along with the yield earned and return it to the central liquidity vault resulting in the growth and higher value of our token.
Whether it be through our yield farming platform via staking, or simply investing in deflationary utility tokens, Moonfuel Protocol has something for everyone. As of April 21st Blazar has begun LIVE trading on the decentralized exchange Pancakeswap, along with centralized exchanges DSDAQ.io, Coinspot.io, and DEX-Trade.io
Investors contact [email protected]
Full details of the launch can be seen in this infographic: https://media.publit.io/file/PR/Launch-Blazar-Token.jpeg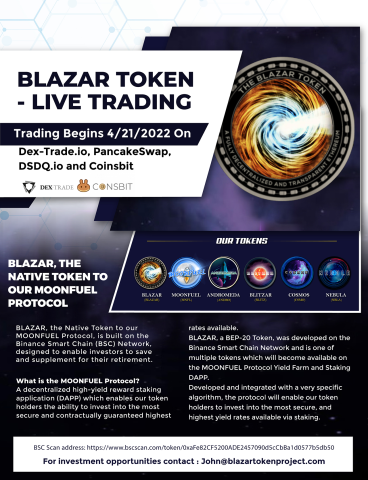 Media Contact
Company Name: BLAZAR
Contact Person: JOHN DeSalvo
Email: Send Email
Phone: 609-382-2223
Country: United States
Website: blazartokenproject.com