Meat Substitute Market Is Projected To Expand At A CAGR Of 42.1% From 2022 To 2030, Driven By Rising Awareness Of Environmental And Ethical Issues | Grand View Research, Inc.
According to a new report published by Grand View Research, growing preference for a vegan diet coupled with rising health awareness is expected to fuel market demand in the forecast period. Growing consumer awareness of the benefits of a vegan diet is one of the major factor driving global demand for plant-sourced products.
Meat Substitute Industry Overview
The global meat substitute market size was valued at USD 9.9 billion in 2021 and is expected to reach USD 234.7 billion by 2030, registering a CAGR of 42.1% from 2022 to 2030.
Intensive animal husbandry has been criticized by some sections of society because of its negative effects on the environment and animal welfare. This has led to the emergence of diets that exclude or limit the use of animal products. This is expected to facilitate the growth of the market for meat substitutes. The outbreak of the COVID-19 pandemic has drastically impacted the consumption pattern of traditional meat due to rising health consciousness among consumers.
Gather more insights about the market drivers, restrains and growth of the Global Meat Substitute market
The fear of an increasing number of animal-borne diseases has raised health concerns among consumers, which has resulted in decreased intake of animal products. Consumer awareness of plant-based meat substitutes is rapidly growing, with more people demanding these because of their stated health benefits, such as the prevention of non-communicable disorders, digestive issues, and obesity. Nowadays, consumers are extremely cautious about their health due to increased obesity cases and other diseases, such as cardiac diseases and diabetes. As a result, consumers are changing their eating habits and incorporating a healthy diet, which is expected to boost the demand for meat substitutes.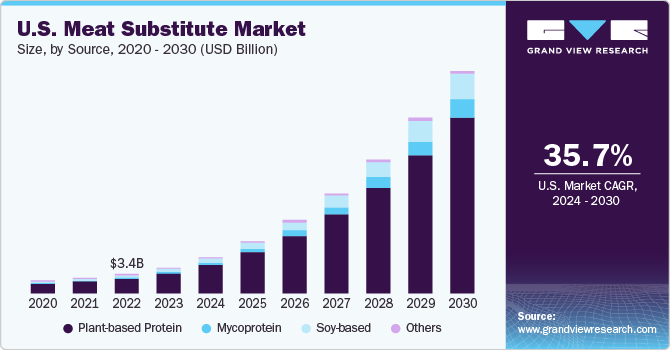 The growing consumer awareness of the benefits of a vegan diet is one of the major factors driving global demand for plant-sourced products. Additionally, the health benefit linked with cholesterol-free protein is another key factor promoting the growth of these products in different regions. The enormous growth in the market for meat substitutes is due to a mix of customer concerns and the ability of manufacturers to provide meat replacements with superior flavor, texture, and mouthfeel attributes. Millennials and Gen Z are driving demand for this industry, which is typically fueled by concern for health, climate change, and animal welfare. Many manufacturers have been partnering with brands to offer products in this category.
For instance, in December 2021, Next Meats, a Tokyo-based company partnered with Vegan Meat India to launch meat-free products in the country. Furthermore, a diverse range of products provides consumers with more options and innovative flavors, while also ensuring that their dietary needs are met. Consumers who are also not vegetarians or vegans are exploring plant-based alternatives for a variety of reasons such as more nutrition, weight management, animal welfare, and long-term sustainability of the environment. According to the Good Food Institute, 11.9% of American families bought plant-based meat in 2019, up from 10.5% a year earlier.
Another popular trend is the use of whole veggies and grains on ingredient lists. For health-conscious buyers, seeing known substances on product labels is becoming increasingly vital. Consumers are increasingly looking for packages with reputable third-party certificates. Producers of meat substitutes are now providing products with transparent labeling that show whether the product is non-GMO, gluten-free, vegan, or kosher. As a result, the rising number of consumers preferring plant-based alternatives and significant investment in new product innovation are expected to continue to offer a profitable opportunity for the expansion of the market for meat substitutes.
Meat Substitute Market Segmentation
Based on the Source Insights, the market is segmented into Plant-based Protein, Mycoprotein, Soy-based and Others.
The plant-based protein segment held the largest revenue share of 34.8% in 2021 and is expected to maintain dominance over the forecast period.
The mycoprotein segment is projected to register the fastest CAGR of 43.2% from 2022 to 2030. Owing to the higher content of nutrients like fiber that helps in controlling blood cholesterol and blood sugar, consumers prefer mycoprotein food.
For vegans and vegetarians, meat alternatives were earlier limited to soya chunks and mushrooms, and cottage cheese.

Based on the Distribution channel Insights, the market is segmented into Foodservice and Retail.
The foodservice segment is anticipated to register a CAGR of 43.0% from 2022 to 2030. The category includes outlets such as restaurants, hotels, and lounges. The COVID-19 pandemic has led to lockdowns and shutdowns across the world.
The retail segment led the market for meat substitutes and accounted for the largest revenue share of 67.3% in 2021. The segment includes all retail outlets such as hypermarkets, supermarkets, convenience stores, mini markets, and departmental stores.

Based on the Meat Substitute Regional Insights, the market is segmented into North America, Europe, Asia Pacific, Central & South America, and Middle East & Africa
Europe dominated the meat substitutes market and accounted for the largest revenue share of 39.1% in 2021. The region has been witnessing high demand, both from young and elder consumers.
In Asia Pacific, the market for meat substitutes is expected to witness a CAGR of 47.0% from 2022 to 2030. Countries like China and Australia contribute most of the share in the region. Rising health consciousness and social media influence have led to increased consumption of such products in these countries.
Market Share Insights:
December 2021: Japan-based Next Meats partnered with Indian food tech start-up Vegan Meats India to launch meat substitutes in India. The company plans to set up a manufacturing unit and lab in India.
December 2021: ITC Ltd launched plant-based meat products, in anticipation of the burgeoning demand for meat substitutes and vegan meals in India.
Key Companies Profile:
The market for meat substitutes comprises companies with a stronghold in meat substitutes and is still developing, where new entrants are launching products and other key players in the market are planning to launch their products due to the increasing health concern owing to rising animal-borne diseases across the globe.
Some prominent players in the global meat substitute market include
Amy's Kitchen
Beyond Meat
Impossible Foods Inc.
Quorn Foods
The Kellogg Company
Unilever
Meatless B.V.
VBites Foods Ltd.
Sunfed
Tyson Foods, Inc.

Order a sample PDF (free) of the Meat Substitute Market Intelligence Study, published by Grand View Research.
About Grand View Research
Grand View Research is a full-time market research and consulting company registered in San Francisco, California. The company fully offers market reports, both customized and syndicates, based on intense data analysis. It also offers consulting services to business communities and academic institutions and helps them understand the global and business scenario to a significant extent. The company operates across multitude of domains such as Chemicals, Materials, Food and Beverages, Consumer Goods, Healthcare, and Information Technology to offer consulting services.
Web: https://www.grandviewresearch.com
Media Contact
Company Name: Grand View Research, Inc.
Contact Person: Sherry James, Corporate Sales Specialist – U.S.A.
Email: Send Email
Phone: 1888202951
Address:Grand View Research, Inc. 201 Spear Street 1100 San Francisco, CA 94105, United States
City: San Francisco
State: California
Country: United States
Website: https://www.grandviewresearch.com/industry-analysis/meat-substitutes-market