Africanstory.TV Celebrates Kwanza with Live African Storytime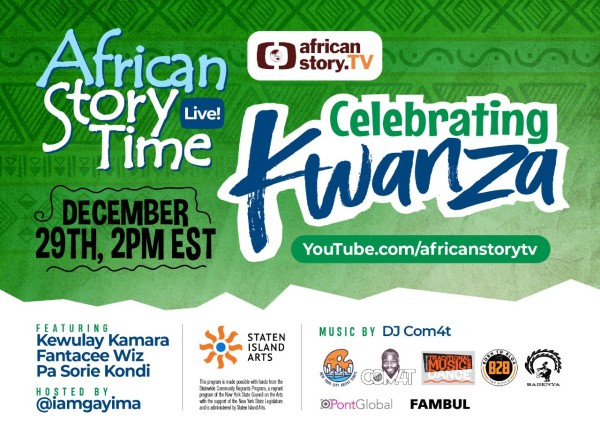 On December 29th, from 2 PM EST Africanstory.TV hosted an exclusive event Celebrating Kwanza with a live storytelling broadcast featuring master storyteller Kewulay Kamara. The event marked and celebrated Kwanza.
The event featured Kewulay Kamara, Fantacee Wiz, Pa Sorie Kondi and was hosted by Gayima Kanu. Music was provided by DJ Com4t.
Gayima Kanu is a Creative Entrepreneur. Author, Co-Founder, and Executive Director of the self-titled Marketing Hub
Kwanza is a secular festival observed by many African Americans from 26 December to 1 January as a celebration of their cultural heritage and traditional values.
"It is critical to convey and preserve our African stories, history, and culture for future generations, including our children and their children." said Gayima.
"It is an honor to participate in Celebrating Kwanza. I am especially humbled by the production support we received, as well as the wonderful supportive audience/participants in our virtual courtyard."
Africanstory.TV is produced by African Story Network, Inc., a 501c3 non-profit organization. Africanstory.TV is solely dedicated to producing and promoting diasporic African content.
Short African stories told by ordinary Africans, African Americans, and Caribbeans are broadcast on the platform. It features storytellers from all cultures who want to keep the art of storytelling alive, acting as an online village where global citizens can enjoy the quirks of the centuries-old oral story tradition.
For more information, please visit – https://www.youtube.com/africanstorytv
Media Contact
Company Name: Africanstory.TV
Contact Person: Bala
Email: Send Email
Country: United States
Website: www.youtube.com/africanstorytv