Upgrade Wardrobe With The Latest Trends From FanBlu: Find Affordable Accessories Online Now
Online Ecommerce giant FanBlu, redesigned it's online clothing store with a mission to provide shoppers with the best possible prices. The company, based in Spain, offers a wide range of products for both men and women, all stylish and up-to-date with the latest fashion trends.
FanBlu has been steadily improving its online store and introducing small updates that make a difference. In 2023, they launched a new and improved online store that is easy to use and comes with many new features. Their return policies are also flexible to increase customers' confidence before purchasing.
Additionally, they will offer quick help for general queries and international returns with refundable shipping costs. Flash sales will also be held weekly, offering great discounts on FanBlu's stylish products from all over the world, including the United States, Australia, Germany, France and England.
FanBlu is a constantly updated website with the latest product tracking information. This is important because it lets customers know when their order will arrive. Currently, FanBlu ships to many different countries worldwide, although the main focus is on countries within the European Union and the United States. For example, worldwide shipping rates start at €2.15 and go up to €4.99. You get free shipping if you spend more than €35 on your order. These prices are fixed and do not change based on location.
There are some countries that FanBlu does not ship to due to delays or high shipping costs, such as Peru, Argentina, Venezuela, Bolivia, Costa Rica, Dominican Republic, Guatemala, Colombia, Brazil, Moldova, Andorra, Belarus, Russia, Croatia, Serbia, and Turkey.
Now that FanBlu is available, people may experiment with the most incredible looks and trends for a better personality. Products are offered at substantial reductions, and most designs are ideal. An extensive collection makes it simple to identify items or materials used to make garments. People may keep up with the latest fashions by buying clothing apparel with fast shipping (Estimated delivery between 7 to 14 business days) from an online clothing retailer.
Taking fashion and apparel trends that are profitable are simple to spot. FanBlu creators offer hoodies, t-shirts, bracelets, watches, shorts, jackets, beauty apparel, and much more, tailing each garment with a unique pattern logo style of the FanBlu, making it extremely easy to stand out in the fashion world with the latest trend.
And knowingly, that competitive price plays a significant factor in the decision of one's online shop, even though the excellence of the clothing is of utmost importance. A competitive price is essential in determining one's online shop, yet even though how you wear the outfit is standard is still considered of utmost importance when making a fashion statement out in the world.
The impact of FanBlu on e-commerce is still to be determined, so visit FanBlu's official site right now to take advantage of the fast shipping and personalized return plans with a 15 days return policy that the website provides.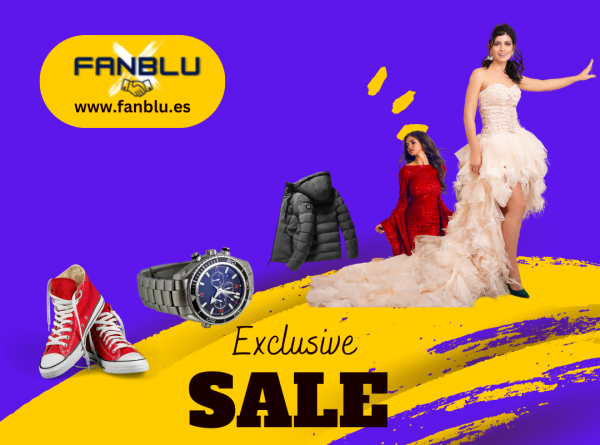 You'll receive a 10% discount on this order by subscribing to the email. Plus, you'll be the first to know about new arrivals and special sales. With confidence and security, FanBlu is the best place to shop for your favorite products.
About FanBlu:
FanBlu is an online clothing and accessories store offering competitive prices and top-quality items. The e-commerce store is located in Navarra, Spain, and was launched on August 11, 2021.
FanBlu provides a wide variety of products for both men and women, including shirts, pants, dresses, shoes, and many other accessories. The company also offers free shipping on orders over €35 and has a convenient return policy. Overall, FanBlu is a great option for those looking for stylish and affordable clothing.
Media Contact
Company Name: Fanblu
Email: Send Email
City: Navarra
Country: Spain
Website: fanblu.es