ANITABEL Launches Genesis Collection to Mark for Inclusivity in the Luxury Market
ANITABEL was formerly known as DIVALUKKY.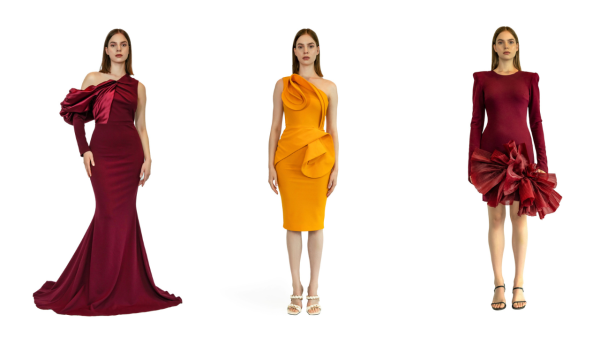 London-based women's wear brand DIVALUKKY has rebranded, with the label now officially known as ANITABEL. Founded by fashion enthusiast and former model Anita Ebeledike, ANITABEL has become a go-to label for statement occasion and bridal wear.
To mark the rebranding, ANITABEL has launched a new collection titled Genesis, which includes plus sizes, aligning with the new brand mission to promote inclusivity in the luxury market. The collection is a testament to Anita's vision of what a modern woman's wardrobe should look like – bold yet wearable, flattering yet sophisticated.
"Creating a fashion brand is more than just designing clothes; it's about weaving a story of style, quality, and authenticity that resonates with your audience and leaves an indelible mark on the fashion landscape," says Anita Ebeledike, the founder of ANITABEL.
ANITABEL's unique combination of premium quality, exquisite design, and exceptional customer service sets it apart from other companies in its niche, earning the brand a loyal following of clients who appreciate the finest things in life. The team of highly skilled and experienced designers at ANITABEL is constantly innovating and pushing boundaries to create timeless and modern collections. Each garment is tailored to fit clients perfectly, with a range of customization options available to make each piece one-of-a-kind.
The ANITABEL woman is bold and fashionable, living life to the fullest. With an elevated eye for beauty and an unconventional approach, Anita has created distinctive pieces that stand out. Each collection from ANITABEL aims to cover every woman's wardrobe needs, from statement pieces for occasions to subtle statement pieces for the daytime.
The brand's exquisite craftsmanship is on full display in the Genesis collection, which features intricate detailing, exquisite fabrics, and unique designs that are sure to turn heads. The collection's plus-size offerings are a welcome addition, promoting inclusivity and celebrating diverse body types.
At ANITABEL, the customer is at the heart of everything we do, and our exceptional customer service is second to none. Every client should feel like a VIP, and we go above and beyond to ensure they have a seamless and enjoyable experience when working with us. Our personalized styling advice, special request accommodations, and hassle-free return policy are just a few ways we strive to make our clients feel valued and appreciated.
Users are invited to visit the ANITABEL website to explore the Genesis collection and discover the luxurious designs that embody the brand's commitment to elegance, sophistication, and inclusivity in the luxury market.
About the Company:
Anitabel is the high-end fashion label formerly known as DIVALUKKY, specializing in luxury women's wear for special occasions. With an emphasis on elegance and sophistication, Anitabel's collections are crafted from the finest materials. Attention to detail is evident in every piece, making it the go-to destination for those who desire luxury, quality, and timeless designs.
Media Contact
Company Name: ANITABEL
Contact Person: Anitabel Ebeledike
Email: Send Email
City: London
Country: United Kingdom
Website: anitabel.com